Foodie gifts are an absolute must for your food-obsessed friend or relative. Whether you need food lover gift ideas for your partner or you're wanting to spoil yourself with a food-related present, this list of amazing gift ideas will certainly hit the spot!
As you know, here at Travel Food Atlas we're obsessed with food from all over the world so we've delved into deepest corners of the internet to be able to show you some of the best food gift ideas we could find! Here are some of the absolute best food-related gift ideas for your foodie friend.
Top food-related gifts to buy for a foodie 2020
Oh my God, it's a pizza pool float! What's great about these is that you can buy a few and make a whole pizza!
It's large, it's comfortable, it has a cup holder and, most importantly, it looks like a pizza!
Do you think there is any chance of someone opening this gift and not looking incredibly happy? Nope, me neither!
Well ladies and gentlemen, the scientists have finally done it. They've invented the greatest thing that has ever been invented, the one-stop breakfast sandwich maker.
The only words I really have to describe this are that emoji with the hearts for eyes – oh and these words: just brilliant.
Just chuck in your own ingredients, whether that's eggs, cheese, meats, anything you like, and it's ready in 5 minutes. Amazing!
That's right, it's a rematch! This is the second in the series of the Foodie Fight Match Games but we recommend this one because it has loads of brand new culinary trivia questions.
This is one of those games where you really can sit around a table with friends and family, a couple of drinks, and have a ridiculously good time. Categories include: food geography, food culture, cooking terminology, ingredients, food history and more!
The game is especially fantastic if you have at least 2 people who like to think of themselves as a real foodie and you can find out who is the real master of the kitchen!
Buy now

Just when you thought spaghetti couldn't get any better, they go and make this fork!
The twirling spaghetti fork means you can take out all of the draining effort it takes to wrap spaghetti round your fork. And let's face it, who of us couldn't do with a little break from spaghetti twirling once in a while?
With all of the hard work done for you, all you need to do is chew!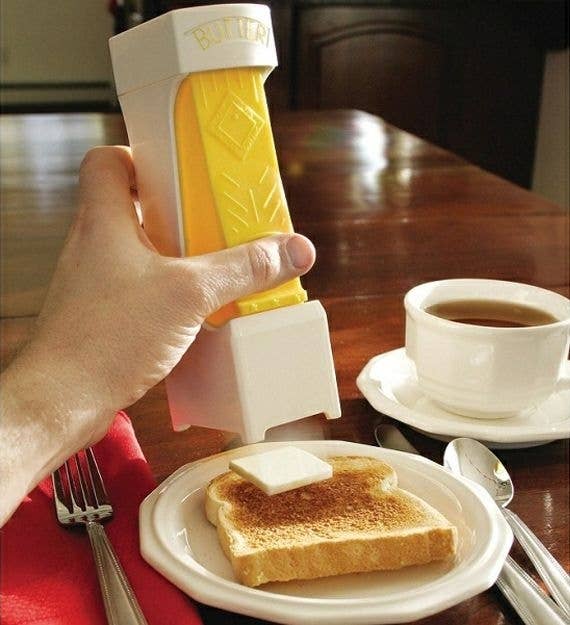 This is the perfect gift for anyone who hates toast crumbs in the butter, no need to put the knife in the tub at all!
Impressively perfect squares of butter mean that you could use this handy little gadget to impress guests if you're trying to be all fancy pants. But then if you're trying to be all fancy pants you're probably not going to be serving toast.
Still, a super cool kitchen gadget that would make a great gift!
Because hamburgers are life. And who hasn't ever looked at a sesame seed bun and thought "I'd love to have a nap on you"? No-one, that's who.
Now you may not want to decorate your entire house with furniture that looks like food, but these would go great in a quirky spare room or as a gift for kids.

These are amazing! Fruity USB sticks (except the carrot which is, of course, a vegetable), that are super cute accessories.
What's even better is that you don't even have to pick your favourite, they come as a set of 5. You've got watermelon, strawberry, carrot, pineapple and banana.
No longer do you have to walk around with that bland USB stick sporting the name of some company who cornered you at a conference that one time.
Everyone at school or work will be either jealous or hungry, such a cool gift.
Mr Sneezy is fantastic – he separates your eggs and looks hilarious whilst doing it!
Simply crack your egg into the top and Mr Sneezy will trickle the yolk out of his nose. Delicious!
How many of you have tried to cook pasta for one and ended up with enough to feed a whole village? Now that would be totally fine if you lived near a village who had a particular taste for plain pasta, but most of us don't.
These portion control pasta containers are super useful and they each have their own little colander so you can just pick it up, give it a shake and then you're good to go!
They're also incredibly cheap which is perfect for a gift that looks like you've put some real thought into it!
Wrap yourself right up into a huge pizza and have a nap. That's everybody's dream. Well, now all of your dreams can finally come true!
This is an incredible gift for anybody who adores pizza, just look at how cheesy it looks!